Screen Time Management
In 2010, I created this Point & Reward System, aimed at developing healthy habits.
Points and Reward System
This is the gamification of homework, chores, sports, hobbies, and other activities. Upon completing an activity, the child earns points which accumulate over time. Once they reach a specific score within a day, they are rewarded with a Silver Star, scoring above expected; they get a Gold Star (like at school).
Reward
A Star empowers the child to choose rewards, such as screen time (Watching or Playing), parent time, and other incentives. To make it fun, have a day where rewards are random.


Weekend
The number and type of stars awarded during the week again empower the child to choose a reward/s; yet to unlock this reward, special weekend activities must be achieved.


Activities & Points
As children grow, you can adjust the point values, introduce new activities tailored to their age and circumstances, and target what you want your child to focus on and the healthy habits you want them to create.


Parents should Participate
As parents, it is beneficial for you to participate in the process alongside your children. You may consider exploring our Vitality Challenge to enhance your family's well-being or devise your own activities and rewards.

Scoring:
We are revamping our old app; in the meantime, you can do this yourself.
Consider using a whiteboard & marker or blackboard & chalk to track points.
If possible, keep the board out of children's reach while allowing them to view their point totals, keeping them engaged and aware of their progress.

Example Points:
Every family is unique, and the assigned activities and points should be tailored according to your child's age.

The following is a general outline:
For teenagers, allocate 100 Points for a Silver Star and 150 Points for a Gold Star. However, for younger children, consider using a smaller scale, such as 10 Points for a Silver Star and 15 Points for a Gold Star. This adjustment makes the goal more achievable and age-appropriate, as 100 points might seem too daunting for younger children. Essentially, it's a matter of dividing the points by 10 or simply removing the zero.
Here is an example of a basic point system:
Make your Bed (10 Points)
Clean your room (20 Points)
Eat your Vegetables (20 points)
Read a Book (30 Points)
Do your Homework (40 Points)
30-Minute Exercise (40 Points)
Train/Play a Sport (60 Points)
Do the Dishes (60 Points)
Negative Points:
Eat food high in Sugar (-20 points)
Drink Soft-Drink/Sodas (-20 points)
Drink an Energy Drink (-50 points)
Didn't do your Chores (-50 points)
Didn't do your Homework (-50 points)
Sneaking Screen Time (-80 points)


Rewards
Once your child has 100 Points (Silver Star), they can have Screen Time based on their age and should only have this reward once a day; for further achievement, 150 Points (Gold Star), have other rewards.
Ages 0 to 1: 0 minutes (Only Family Conference calls)
Ages 2 to 8: 1 hour (Supervised)
Ages 9 to 18: 1.5 hours (Monitored & Discuss what they watch and play)
Ages 19 to 25: 2 Hours (Monitored)
Ages 25+: 2 Hours (Self-Monitored)
All screen time should include Screen Breaks!

Screen Breaks (every 20 minutes)
Walk away from the screen, look at distant objects 20 feet away, hydrate if needed, and stretch.


Weekends (Extra Time)
Extra time may be given during weekends, yet try not to exceed the times allocated per age group in 1 sitting and have over an hour break.
If at all possible, only have 1 ScreenTime reward.


Other Rewards
Your children should not only be rewarded with Screen Time; this will depend on your family and situation. Find out what they want to do away from a screen, you could even base pocket money base on how much is achieved during a week.
Other reward examples: time at the park, time with parent/s, seeing a friend, a hobby, creating something, learning a new skill, etc…


Point Reset
The point system resets daily, encouraging children to establish consistent routines.
For instance, if a child earns a Star every day for a school week, consider offering an additional reward for the weekend, such as extra playtime or a special treat. This approach reinforces habit formation and aligns with the desired goals.
Remember to make the process enjoyable and maintain a degree of flexibility within reason. However, be cautious not to be too lenient, as children will quickly notice and might take advantage.
Monkey See, Monkey Do
So much emphasis is placed on limiting children's screen time and making them healthier individuals. But unfortunately, some adults forget that children will follow what they see. 
Consider creating your own point system, and do our Vitality Challenge.
Make it a family challenge…
Compete with other Families and friends…
Just make sure you have fun with it..
---
Family & Friends
Put down your mobile devices and spend some time with family and friends; if you don't think you need to, there may be someone else that needs you to.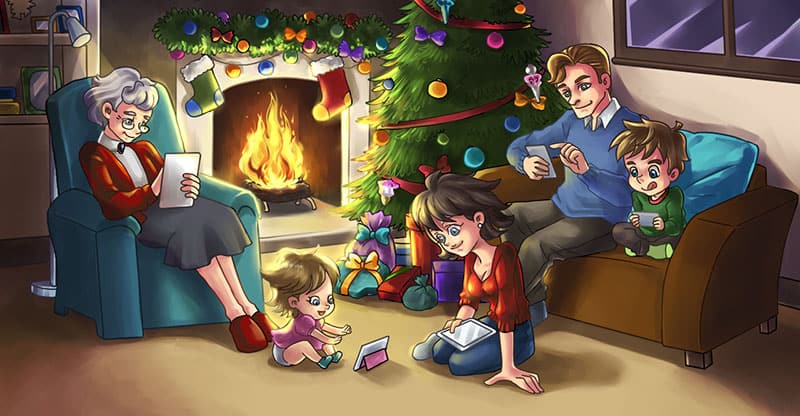 ---
Author:
Artist (Header Image):
Artist (Content Image):