About Us
Vitality For Gamers (VForG) was founded in 2010 by Lionel Thomas. While working in the Computer Games Industry, he had an unfortunate back injury in 2009 due to his sedentary lifestyle as a Gameaholic. He decided life needed to change and dove into health and fitness to become a Healthy Gamer; this also led to saving the Earth, as most Gamers do. Combined, this created our cause, Gaming in the Real World for better Health, Gaming, and Saving the Earth.


Our Mission
"Gamification of Life for Health, Skills, Gaming, and Saving our Earth!"
This is done by:
Gamer in Life
(Gamer Mindset)
Life is like a computer game, full of wonders, opportunities, and skills to level up. Those who take action and risks stand the chance of unlocking powerful rewards that can change their lives forever.


Vitality Challange
(Gamer Health)
The Vitality Challenge creates healthy habits for your Real-life Avatar through Gamification.


Vitality Challange for Kids 
(for Parents with Gamers)
The Vitality Challenge for kids empowers Parents (and Guardians)  with a system to encourage kids to develop healthy habits around screen time and life in general.


Saving the Earth
The actions taken to create healthy habits, level up skills, and be excited about life, will benefit the person and in turn the Earth by lowering our Carbon Footprints.
A few examples:
Walk More (Less Driving)
Avoid Processed Foods (Less Packaging)
Avoid Sugary Food & Drinks (Less Health Impacts)
Be and Buy Local (Less Logistics, Less Travel)
Limit Screen Time (Be more active, Less power consumption)
Intermittent Fasting (Consume Less)
Circular Mindset (Recycle, Reuse, Reduce and Share)
All this and more improves Health while reducing the impact on the Earth.


Gamification and Carbon Footprint
Our Big Audacious Goal is to have a Scoring System to incentivise those who take action and improve their health, level up their skills, and lower their Carbon Footprint.
Having the populace mindset focused on Health, Skills, and the future of our Earth, we can drive the change in Companies to innovate their Products and Services.


Quick Link
For an easier way to get to our website, type in: VForG.com
---
History
Below is a brief of the highlights of the Vitality For Gamers journey.
2023
This is an exciting year as we continue to update our website and release the updated version of our Vitality Challenge web version.
2022
New Look & Feel
The Vitality For Gamers website's new look & feel and updated content were released on the 10th of September, 2022, with much more to come. The Vitality Challenge web application for Gamers and Parents with Gamers has also been updated with the same look & feel, to release the updated version in 2023.
2017
My son was born…
As my son and daughter grew, I could witness our achievement before the reward technique with both kids.
2015
Book Release
(January 2015)

Title: Daniel's life as a Gamer
Languages: English, Deutsch (German), français (French), español (Spanish), Manadarin (Chinese), Japanese
Medium: Paperback, and later Video
2013
My Daughter was born…
Life is about experiences, and I was in a position to take time off, which I did for about 1 year and 6 months to care for my daughter. As my daughter grew, I could witness our achievement before the reward technique firsthand.
2012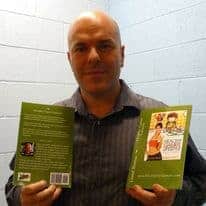 Book Release
(November 2012)
Title: Healthy Gamer Lifestyle: Be your Game Avatar in Life
Medium: Paperback & eBook
Pages: 77
This book details how to create a solid base of energy, prevent issues from extended gaming sessions/screen time, and create a mindset for success and is just awesome for any Gamer wanting to create a Healthy Gaming Lifestyle and parents looking for information on managing gaming/screen time for children.
Contains
– Includes Parental information "Point and Reward System for Children" Gaming & Screen Time Management)
– 70 pages of Healthy Gamer Lifestyle
– 7 Awesome Healthy Gamer Quick Guides
Note: All the book information (updated) is being added to the latest version of the website.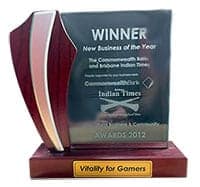 Award Winner
(May 2012)
Winner of the New Business of the Year award,  and praised for its commitment to multiculturalism and unique business concept, Awards funded by the Commonwealth Bank of Australia and celebrated in Brisbane Indian Times.
2010
The Vitality For Gamers cause was created.
Vitality For Gamers
Be your Game Avatar in Life
2009
Due to years of not looking after himself while gaming and screen time, Lionel's health slid to a level he was unfamiliar with. After picking something off the ground, he pulled his back and laid on his couch; unable to move without server pain, he looked up at the ceiling and told himself, "This needs to change".